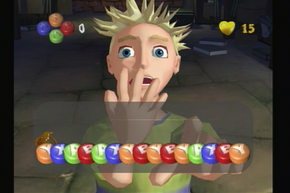 Super Duper Scary Shock is the thrid Bonus Challenge earned which is recieved when Cooper finds 15 Bonus Books. The Challenge requires Cooper to go through the Super Shock he recieved from Amber in the first visit to Ye Old Archives after her transformation, but with 15 buttons to press. Every 3 buttons pressed rewards one medal.
Medals Rewards
Bronze: Press 3 Buttons
Silver: Press 6 Buttons
Gold: Press 9 Buttons
Platinum: Press 12 Buttons
Ad blocker interference detected!
Wikia is a free-to-use site that makes money from advertising. We have a modified experience for viewers using ad blockers

Wikia is not accessible if you've made further modifications. Remove the custom ad blocker rule(s) and the page will load as expected.