The
Soda Pop Gun
is a
Premanent Weapon
that
Babs Buffbrass
gives to
Cooper so
that he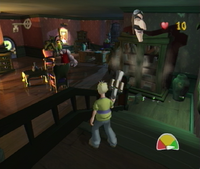 can throw it away because it causes too much of a mess, instead he uses it to his advantage. The Soda Pop Gun fires dangerous exploding cans thats very harmful to Ghoulies, able to decrease 30
Heart Points
. It has a steel barrel, handle and six small canisters around it with soda cans. Like
Ol' Edna
, each shot can decrease to ammo and if it gets to the red side of it's limit, it will be empty untill it recharges within several seconds. It also can be used as a melee weapon.
Levels with the Soda Pop Gun
Chapter 5:
Ad blocker interference detected!
Wikia is a free-to-use site that makes money from advertising. We have a modified experience for viewers using ad blockers

Wikia is not accessible if you've made further modifications. Remove the custom ad blocker rule(s) and the page will load as expected.