Gwenyth
is a minor
Ghoulie
in
Grabbed By the Ghoulies
. You cannot fight this ghastly green-haired specter in the game. However, she can be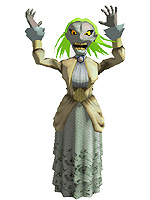 seen in several portraits throughout the
mansion
, most notably in the
Grand Hallway
.
It is unknown what her role was in the game, but the E3 2001 Grabbed By the Ghoulies Video that is unlocked by completing the game implies that she had a major part.
In random situations if the player is near the window, Gwenyth will appear outside the window and scares the player.
Ad blocker interference detected!
Wikia is a free-to-use site that makes money from advertising. We have a modified experience for viewers using ad blockers

Wikia is not accessible if you've made further modifications. Remove the custom ad blocker rule(s) and the page will load as expected.