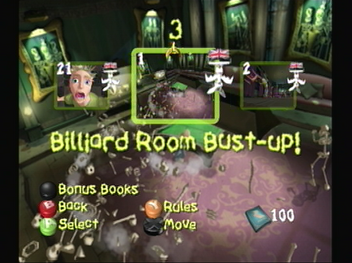 The Billiard Room Bust-Up is the first Bonus Challenge to be earned and is recieved after Cooper finds 5 Bonus Books. Basically this challenge comes from the battle in the second visit to the Billiard Room. Cooper must defeat as much Skeletons as he can in 60 seconds. Every 4 Skeletons defeated awards a medal.
Medal Rewards
Bronze: Defeat 4 Skeletons
Sliver: Defeat 8 Skeletons
Gold: Defeat 12 Skeletons
Platinum: Defeat 16 Skeletons
Ad blocker interference detected!
Wikia is a free-to-use site that makes money from advertising. We have a modified experience for viewers using ad blockers

Wikia is not accessible if you've made further modifications. Remove the custom ad blocker rule(s) and the page will load as expected.